Where is my Merchant ID and Key?
New PayFast Dashboard

To find your Merchant ID and Key after your account has been verified, do the following:

Log in to your PayFast account.




Navigate to

Account

>

Personal Information

.




Your Merchant ID and Key can be found on the top right-hand corner of the page.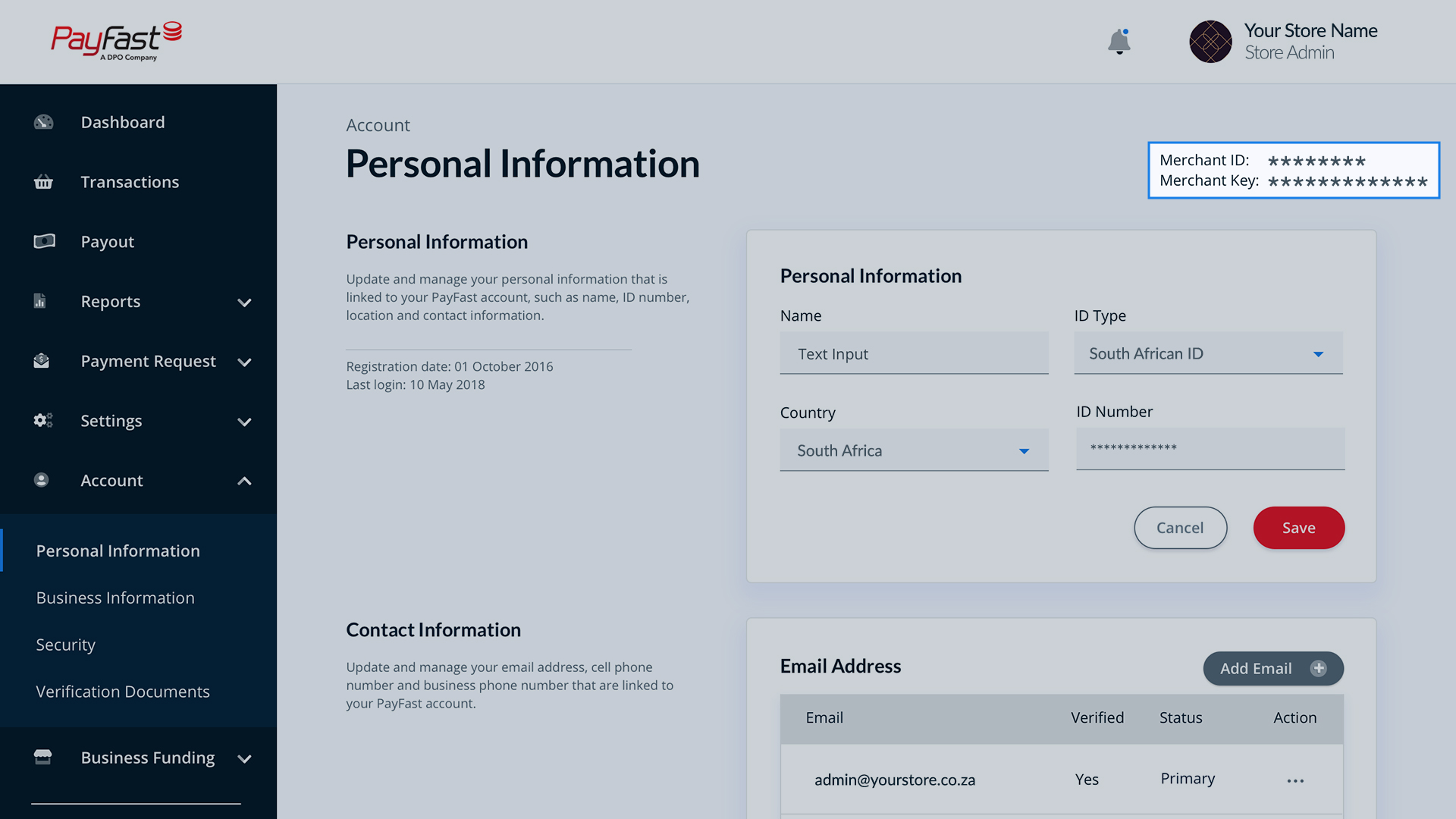 Legacy PayFast Dashboard

Your Merchant ID and Merchant Key can be found in the left corner of your PayFast Dashboard. When you log in to your PayFast account you will immediately see them.

Alternatively, you can find them by going to Settings > Integrations on your PayFast Dashboard. They are listed under Merchant Identifiers.

Related Articles

How do I obtain a two-factor authentication key to log in with?

There are two ways to obtain an authentication key. If you are using a smartphone, download the Authy app for your iPhone or Android mobile phone. Every time you log in, you will need to generate a secure token using the Authy app. If you don't have ...

Why did I not receive an email for a cancelled subscription notification? (Merchant)

The notification of the cancelled subscription will go to the email address that was used to register the merchant's PayFast account. It will not be sent to the email confirmation address that is set on the merchant account via the PayFast Dashboard, ...

What's the difference between a display currency and a base currency?

The display currency is what will be seen on the merchant's website. The base currency is what the plugin/shopping cart dictates what the currency needs to be set as in order for the payment gateway to process the transaction correctly.

Can I link one PayFast account with more than one website?

Technically you can use the same PayFast account (that is the same PayFast Merchant ID and Key) on multiple websites. However, using the same PayFast account on multiple websites doesn't cater for a good buyer experience because the same merchant ...

Why is recurring billing giving an error?

Please ensure that your PayFast merchant account has been verified and that recurring billing has been enabled on your PayFast Dashboard. You will also need to set a passphrase. For instructions on how to enable recurring billing, read this knowledge ...